Another objective has been met: eating Kobe beef in Kobe. And holy crap, was it good. It's kinda funny that everybody here says Kobe beef is too fatty and that its not good, but while the meat is marbled with fat, its that good kind that adds a lot of flavor and just melts in your mouth. Our 10 oz. steak was on top of a heaping mound of garlic and topped with herb butter and onions. The final step before serving was lighting the whole thing on fire and waving the plate around on a little wooden board to put out the flames. Unbelievable.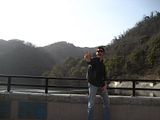 As for the city, Kobe itself has a great feeling to it. When I got there by myself, I hiked up a small mountain lined with waterfalls to the Nunobiki Herb Garden that had great views over Kobe and the harbor. I hadn't eaten anything all day, and it was a pleasant surprise to find black pepper cheese, rosemary olive oil crackers, and assorted dried fruits in the gift shop. The perfect little assortment for watching the sun go down.
Once Joe got to Kobe we set off to eat, in search of Kobe beef but ending up finding a place just as good. We got another beef, Kagodashi, that we got to cook on a small stone heated by a little torch. This stuff was amazing, and they gave us salt and pepper, soy and wasabi, and ponzu with green onions to season each piece exactly how we wanted it. This place also had some great sashimi from a fish I've never eaten before, bonito. After our first plate of sashimi, I wanted another one but after seeing that we definitely payed for a high quality fish, we had to restrain ourselves and settle for a few more beers instead.
After that we were feeling pretty great, so we went to a jazz bar to sip on some whisky and enjoy a little live music. A great little trio played, and after a while a woman came up and started singing. Everything was really nice, and by now our pre-conceived "easy night" was turning into another one of them crazy nights. We headed out and started looking for a bar to hang out in, since Kobe doesn't seem to have many places to really get down, and chose a small bar randomly off the street. This place was really really small and there were 3 other younger people in there and a dart board. Our next decision seems obvious, we played some darts and then challenged the other people to a match. Let me note that neither me or Joe really played darts before. That said, these people were pros. They had some crazy style and each shot was right around the bullseye. They were good, but for some reason we were even better. We beat em 4 out of 6 games, and one of the guys kept telling us to go home. It was awesome, and I beat a girl wearing a skull necklace and black wristbands in a 1 vs 1 match.
We ended our night at another small bar with a foosball table with missing pieces. We got our first beer, and after a few minutes we were given tequila shots on the house. Confused but grateful, we started talking with the server and soon challenged him and his coworker to some foosball games. After a few more beers and two more free tequila shots, it was time to get to bed.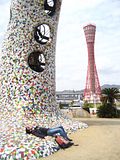 We did a lot the next day, but I want to focus on our little adventure in Harborland, a small shopping / amusement park area right on the water. Besides eating Kobe beef, we chose Kobe because we saw these crazy motorized animals in a few people's pictures and really wanted to ride them. When we first found them we didn't have any change, and got a bit pissed when we came back to see other people riding them. It worked out perfect though, because after a failed attempt at landing a large sausage from a claw machine, the giraffe and baby panda were facing each other on opposite sides of the little square designated for the animals. I chose the cross-eyed giraffe, and after a short countdown, our duel began. We were acting pretty stupid, waving our fists at each other and unleashing long strings of insults and it drew a small crowd. When we finally made contact, my giraffe stopped almost completely and a guy was out to fix it in about 5 seconds. While he was trying to untangle our animal mess, I continued to give Joe all I had, chasing him down and once his panda ran out of juice, I did a victory lap around his sorry excuse of an animal. We were applauded.
This post is already longer than I intended, so I'll end the stories here. Really though, Kobe was awesome with great food and some cool places to hang out in at night. Really really soon the cherry blossom season will start, and I'll be off to Kyoto to see them how they're supposed to be viewed. Looks like the last week of the pay period is going to be rough again.